DurgaMaa Dark Red And Green Saree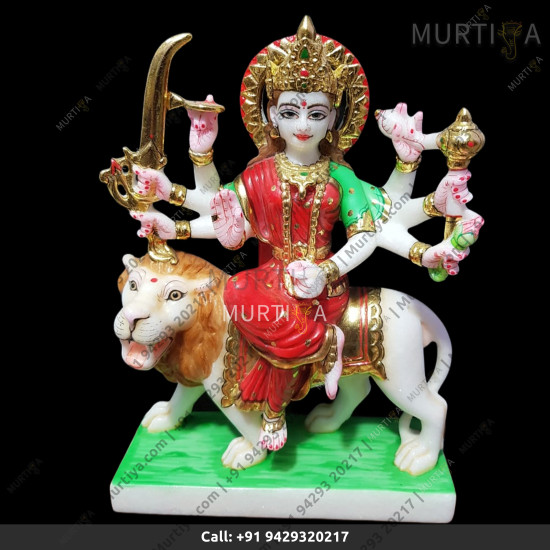 12 Inch Made to Order
World Wide Shipping
We provide worldwide shipping via trusted shipping services that offer hassle-free doorstep delivery with tracking id and insurance.
24x7 Customer Service
We have 24x7 human customer service, not a computer or IVR based. Just drop us a message, text, or call us.
End to End Monitoring
We monitor all our shipments regularly until the product reaches your doorstep. And even our team keeps you updated if there is any issue or stuck in transit.
Frequently Asked Questions
DurgaMaa Dark Red And Green Saree
Special Offers
100 Points - Purchase any marble product and get 100 points you can redeem in your next purchase.

Specification
Specifications
Height
12 Inch
Marble
Makrana
Base Style
Square
Status
Made to Order
Description
Durga Maa Dark Red And Green Saree - 12 Inch
Durga Mata, also known as Murti is the Hindu Goddess of Power and Protection. According to mythology, she is the fierce form of the Hindu Goddess Shakti, and is often depicted as a tall woman with ten arms, riding a lion or tiger. The color red is associated with Durga Mata, as it symbolizes her power and strength. Her idol is often decorated with garlands of red flowers. The color green is also associated with the goddess, as it represents her auspicious nature. A dark red and green saree is the perfect way to pay tribute to this powerful deity.
How to Care
In the Hindu religion, the god's deity considers a real human. and caring for the marble deity is even more important.
As we all know marble is a thing that is purely natural and just like all natural things are effecting by pollution and the environment so the marble is also affected.

Clean the marble deity is really simple if you do it in a proper way and regular way. All you need is a good microfiber cloth. You can use 222 GSM but 800+ GSM microfiber cloth is recommended.
Do not use any chemicals or soapy water or cleaning liquid. This type of liquid item will directly affect the elimination of coating on the marble deity.
Use only vacuum cleaning and dry microfiber. and you can use lite wet microfiber to clean but please clean with a wet cloth once a month.
Avoid placing marble deities in direct sunlight.
If you do tilak then clean with wet microfiber but do not apply force/pressure to clean it. do it gently.
If by mistake any sharp object touches the marble deity and you notice that the area has a scratch then apply some clear varnish on that spot to seal the scratch.
If you follow these instructions then you can keep the marble deity as it is for a longer time.