Buy Beautiful Marble Fully Painted Radha Ji Online | Murtiya.com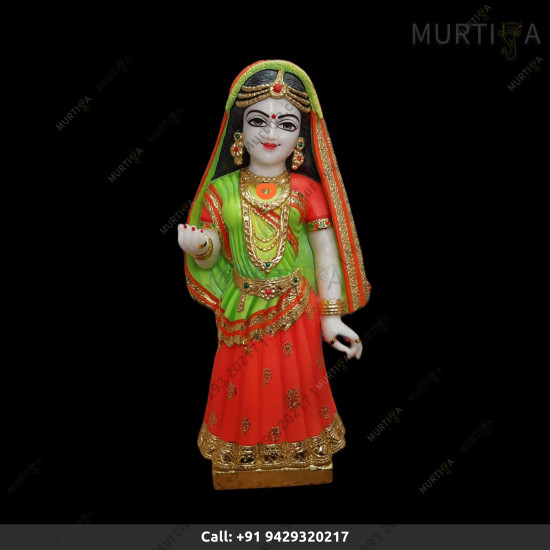 12-30 Inch Made to Order
World Wide Shipping
We offer global shipping with secure doorstep delivery, tracking, and insurance.
24x7 Customer Service
24/7 human customer service available via message, text, or call.
End to End Monitoring
We provide regular shipment monitoring and updates until delivery.
Frequently Asked Questions
Buy Beautiful Marble Fully Painted Radha Ji Online | Murtiya.com
Special Offers
100 Points - Purchase any marble product and get 100 points you can redeem in your next purchase.

Specification
Specifications
Height
12 Inch to 30 Inch
Marble
Vietnam
Making Time
4 Weeks
Deity
Radha Ji
With Clothes
Yes
Base Style
Square
Status
Made to Order
Description
Buy Beautiful Marble Fully Painted Radha Ji Online | Murtiya.com
Experience the divine beauty and grace of Radha Ji with our beautiful marble Fully Painted Radha Ji statue. This exquisite piece is crafted with the utmost care and precision, using only the finest quality materials and featuring intricate detailing that captures the essence of the divine love and devotion of Radha Krishna.
The fully painted design adds a vibrant and colorful touch to this already stunning statue, creating a unique and eye-catching piece that is perfect for your home altar or as a decorative accent in any room. The statue is available in sizes ranging from 9 inches to 30 inches, allowing you to choose the perfect size for your needs.
As a leading exporter of marble deities, we take pride in our craftsmanship and attention to detail, ensuring that each piece is made with the utmost care and precision. We are committed to providing the best quality products to our customers, and this Fully Painted Radha Ji statue is no exception.
Order online today for the convenience of door-to-door delivery and transit insurance. Shop at Murtiya.com, the best quality marble deity exporter, and elevate your spiritual practice or home decor with this exquisite statue.
How to Care
The deity in the Hindu religion is considered as a real human and therefore, it is crucial to take good care of the marble deity. Marble is a natural material that can be affected by pollution and the environment, making it important to clean the deity in a proper and regular manner.
To clean the marble deity, a good microfiber cloth is recommended, with 800+ GSM being the most effective.
It is essential not to use any chemicals, soapy water, or cleaning liquids as these can damage the coating on the marble. Instead, vacuum cleaning and dry microfiber should be used, with a wet cloth used occasionally for cleaning.
Placing the marble deity in direct sunlight should be avoided as it can damage the material.
If a tilak is applied, it should be cleaned with a wet microfiber cloth gently without applying any force.
In the case of a scratch, clear varnish should be applied to seal it.
By following these instructions, the marble deity can be kept in good condition for a longer time.