9 Inch Pure Marble Durgaa Maa | best for Home - Temple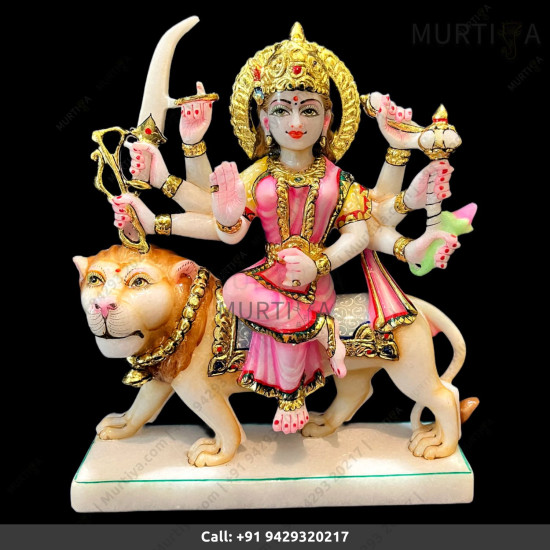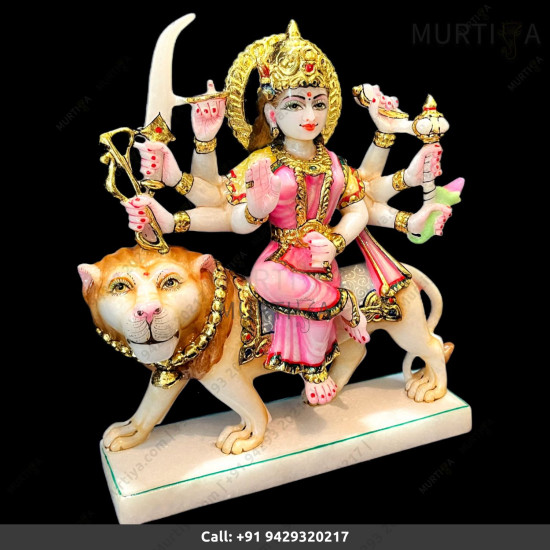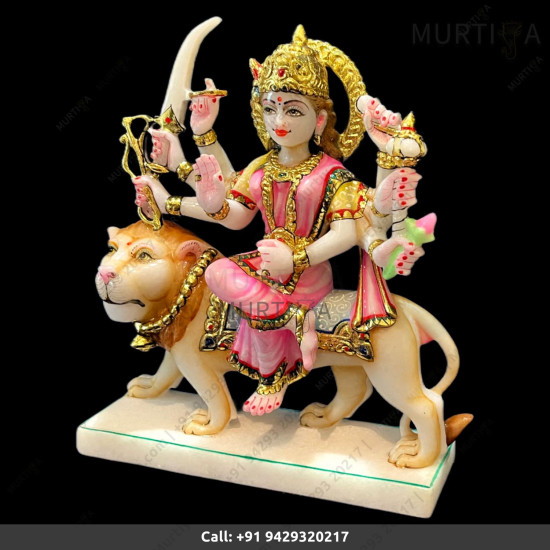 New In Stock 9 Inch



World Wide Shipping
We offer global shipping with secure doorstep delivery, tracking, and insurance.
24x7 Customer Service
24/7 human customer service available via message, text, or call.
End to End Monitoring
We provide regular shipment monitoring and updates until delivery.
Frequently Asked Questions
9 Inch Pure Marble Durgaa Maa | best for Home - Temple
Special Offers
100 Points - Purchase any marble product and get 100 points you can redeem in your next purchase.

Specification
Specifications
Height
9 Inch
Marble
Vietnam
Base Style
Square
Status
In Stock
Description
9 Inch Pure Marble Durgaa Maa | best for Home - Temple
Discover the majestic presence of Durga Maa in your sacred space with our exquisite Marble Durga Maa Deity, available exclusively at Murtiya.com. Standing tall at 9 inches in height, this divine masterpiece showcases intricate emboss work, highlighting the meticulous craftsmanship that we have perfected over 10 years of experience in marble deity making.
Crafted with utmost devotion and reverence, our Marble Durga Maa Deity captures the divine essence of the goddess, radiating grace and strength. Made from premium quality marble, each detail is meticulously carved to perfection, ensuring a lasting symbol of devotion.
The embossed work on this deity is a testament to the skill and artistry of our craftsmen. Delicate motifs and intricate patterns adorn the surface, adding depth and dimension to the idol's divine form. The attention to detail creates a mesmerizing visual appeal, inviting reverence and awe.
At Murtiya.com, we are committed to bringing divine idols to devotees worldwide. With our worldwide shipping services, you can experience the presence of Durga Maa, no matter where you are. We understand the significance of transit safety, and therefore, each shipment is carefully handled and packaged to ensure the deity's safe arrival at your doorstep.
Invite the divine blessings of Durga Maa into your home, office, or temple with our Marble Durga Maa Deity. Let her presence fill your space with divine energy, protection, and strength.
Experience the excellence of our craftsmanship and the devotion infused into every creation. Order your Marble Durga Maa Deity from Murtiya.com and embark on a spiritual journey transcending time and space.
How to Care
The deity in the Hindu religion is considered as a real human and therefore, it is crucial to take good care of the marble deity. Marble is a natural material that can be affected by pollution and the environment, making it important to clean the deity in a proper and regular manner.
To clean the marble deity, a good microfiber cloth is recommended, with 800+ GSM being the most effective.
It is essential not to use any chemicals, soapy water, or cleaning liquids as these can damage the coating on the marble. Instead, vacuum cleaning and dry microfiber should be used, with a wet cloth used occasionally for cleaning.
Placing the marble deity in direct sunlight should be avoided as it can damage the material.
If a tilak is applied, it should be cleaned with a wet microfiber cloth gently without applying any force.
In the case of a scratch, clear varnish should be applied to seal it.
By following these instructions, the marble deity can be kept in good condition for a longer time.