Marble Ganesh ji with Golden Painted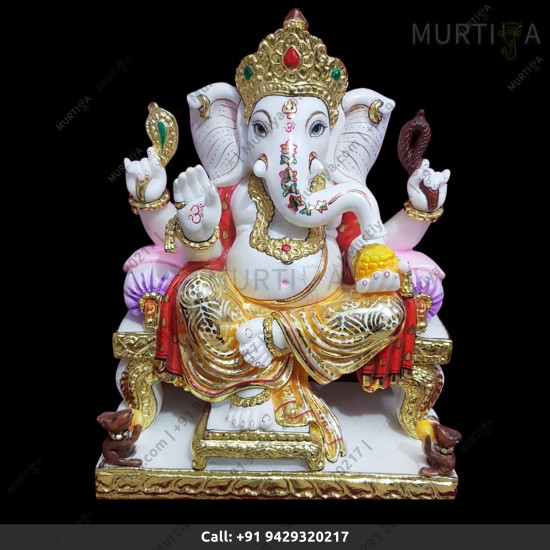 12-30 Inch Made to Order
World Wide Shipping
We offer global shipping with secure doorstep delivery, tracking, and insurance.
24x7 Customer Service
24/7 human customer service available via message, text, or call.
End to End Monitoring
We provide regular shipment monitoring and updates until delivery.
Frequently Asked Questions
Marble Ganesh ji with Golden Painted
Special Offers
100 Points - Purchase any marble product and get 100 points you can redeem in your next purchase.

Specification
Specifications
Height
12 Inch to 30 Inch
Marble
Makrana
Making Time
3 Weeks
Status
Made to Order
Description
Marble Ganesh ji with Golden Painted
A picture of Ganesha is one of the most significant deities in Hinduism. He is regarded as the patron of learning, exploration, trade, and new endeavours. He frequently carries a bag of candy and an axe or goads in his hands to represent his capacity to overcome challenges. It is said that those who pray to Ganesha can fulfil their ambitions and aims. Ganesh Chaturthi's central message is that those who worship him are purged of their sins and led toward a life of wisdom and understanding.
To guard temples and other holy places from intruders, Ganesh statues and pictures are frequently found nowadays at their gates. Ganesha is available in variety of designs from us. Ganesh mantras are repeated before any celebrations or sacred rites to safeguard luck and power to all those engaged and eliminate any potential obstacles that may be ahead. If you want a lavish, pleasant, and wealthy existence, you can also put a Ganesha statue that is lying down. We deeply check your package before getting it delivered to you. So you can order from us wholeheartedly
How to Care
The deity in the Hindu religion is considered as a real human and therefore, it is crucial to take good care of the marble deity. Marble is a natural material that can be affected by pollution and the environment, making it important to clean the deity in a proper and regular manner.
To clean the marble deity, a good microfiber cloth is recommended, with 800+ GSM being the most effective.
It is essential not to use any chemicals, soapy water, or cleaning liquids as these can damage the coating on the marble. Instead, vacuum cleaning and dry microfiber should be used, with a wet cloth used occasionally for cleaning.
Placing the marble deity in direct sunlight should be avoided as it can damage the material.
If a tilak is applied, it should be cleaned with a wet microfiber cloth gently without applying any force.
In the case of a scratch, clear varnish should be applied to seal it.
By following these instructions, the marble deity can be kept in good condition for a longer time.