Pure marble Vinayaki a Female form of Ganesha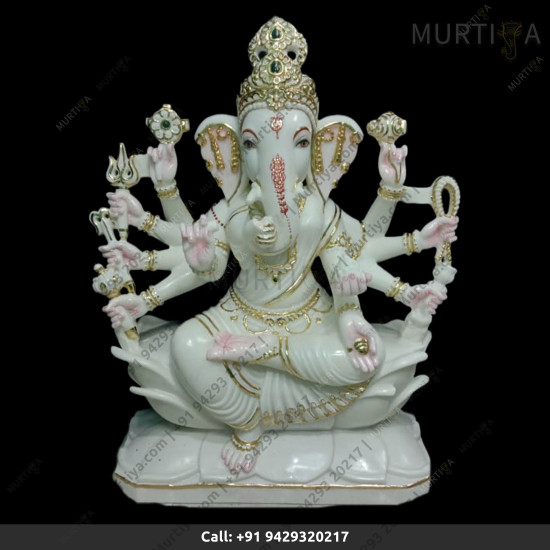 12-30 Inch Made to Order
World Wide Shipping
We offer global shipping with secure doorstep delivery, tracking, and insurance.
24x7 Customer Service
24/7 human customer service available via message, text, or call.
End to End Monitoring
We provide regular shipment monitoring and updates until delivery.
Frequently Asked Questions
Pure marble Vinayaki a Female form of Ganesha
Special Offers
100 Points - Purchase any marble product and get 100 points you can redeem in your next purchase.

Specification
Specifications
Height
12 Inch to 30 Inch
Marble
Makrana
Making Time
3 Weeks
Status
Made to Order
Description
Pure marble Vinayaki a Female form of Ganesha
As the son of Shiva, the Hindu god of destruction, and the goddess Parvathi, Vinayaka is revered as the remover of barriers. His birth and acquisition of the elephant head are described in several mythologies. Vinayaki is the female version Vinayaka. We have a wide selection of vinayaki statues available. These are made by our talented designers utilizing high-quality marble and cutting-edge hand tools. These marble ganesha statues, which come in various sizes and colour combinations, are ideal presents for loved ones. Additionally, after designing, the fine polishing process is also completed. You can get the statue with fine finishing.
Vinayaki is revered as the God of pleasure, happiness, and success. We frequently need to pay more attention to the significance of putting it in the proper location at home. Since vinayaki is regarded as the guardian, we always worship him before beginning a new endeavor in our lives. It is frequently work shipped by people worldwide. We offer a vinayaki statue in a range of colours. You can get the best vinayaki statue from us at an affordable price. We can customize the vinayaki statue according to your needs. You can get it delivered to your home after making an online order
How to Care
The deity in the Hindu religion is considered as a real human and therefore, it is crucial to take good care of the marble deity. Marble is a natural material that can be affected by pollution and the environment, making it important to clean the deity in a proper and regular manner.
To clean the marble deity, a good microfiber cloth is recommended, with 800+ GSM being the most effective.
It is essential not to use any chemicals, soapy water, or cleaning liquids as these can damage the coating on the marble. Instead, vacuum cleaning and dry microfiber should be used, with a wet cloth used occasionally for cleaning.
Placing the marble deity in direct sunlight should be avoided as it can damage the material.
If a tilak is applied, it should be cleaned with a wet microfiber cloth gently without applying any force.
In the case of a scratch, clear varnish should be applied to seal it.
By following these instructions, the marble deity can be kept in good condition for a longer time.