Sleeping Style Marble Ganesha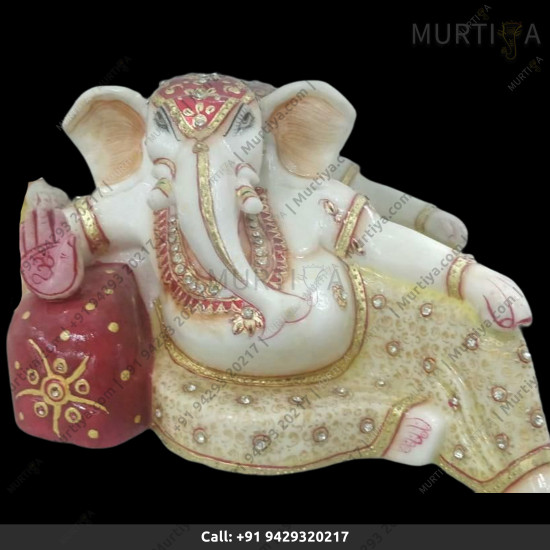 12-30 Inch Made to Order
World Wide Shipping
We offer global shipping with secure doorstep delivery, tracking, and insurance.
24x7 Customer Service
24/7 human customer service available via message, text, or call.
End to End Monitoring
We provide regular shipment monitoring and updates until delivery.
Frequently Asked Questions
Sleeping Style Marble Ganesha
Special Offers
100 Points - Purchase any marble product and get 100 points you can redeem in your next purchase.

Specification
Specifications
Height
12 Inch to 30 Inch
Marble
Makrana
Making Time
3 Weeks
Status
Made to Order
Description
Sleeping Style Marble Ganesha
Our selection of marble sleeping styles is available in various colors. Lord Ganesha is one of the essential divinities in the Hindu religion. It bestows Riddhies and Siddhis on the worshipper, among other attainments. His opponents are defeated, meaning their thoughts or intents have been altered. The devotion to the Ganesha marble murti ensures that all property and business-related projects are completed as soon as possible. Idols energize the location where they are placed. It could be placed in the living room, lobby, study, office cabin, or close to the building's entrance.
The most excellent location for idols or murtis is toward the east. Sleeping-style marble Ganesha emits exceptionally uplifting energy in the heavenly vibrations of the East corner. A white Ganesha statue can be placed in the home of a person who wants to live a happy, tranquil, and prosperous life. Putting white Ganesha stickers on walls is also helpful. Similarly, anyone hoping to grow personally should bring home a vermilion marble ganesha. The Vastu system views this as fortunate. We will customize the statue according to your needs. You can have a positive sign by placing a sleeping-style Ganesh statue in your home. It enhance the blessing to your family.
How to Care
The deity in the Hindu religion is considered as a real human and therefore, it is crucial to take good care of the marble deity. Marble is a natural material that can be affected by pollution and the environment, making it important to clean the deity in a proper and regular manner.
To clean the marble deity, a good microfiber cloth is recommended, with 800+ GSM being the most effective.
It is essential not to use any chemicals, soapy water, or cleaning liquids as these can damage the coating on the marble. Instead, vacuum cleaning and dry microfiber should be used, with a wet cloth used occasionally for cleaning.
Placing the marble deity in direct sunlight should be avoided as it can damage the material.
If a tilak is applied, it should be cleaned with a wet microfiber cloth gently without applying any force.
In the case of a scratch, clear varnish should be applied to seal it.
By following these instructions, the marble deity can be kept in good condition for a longer time.