White Laddu Gopal Marble Murti with Yellow cloth jewellery for Home Office Temple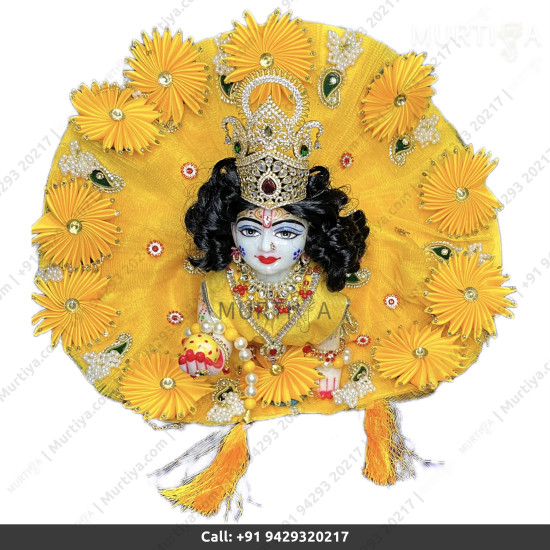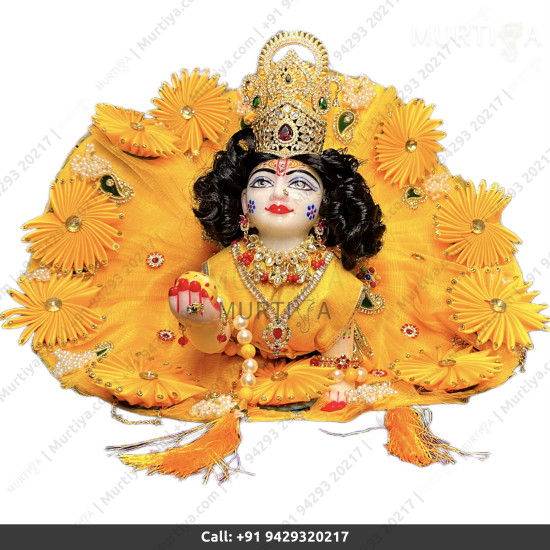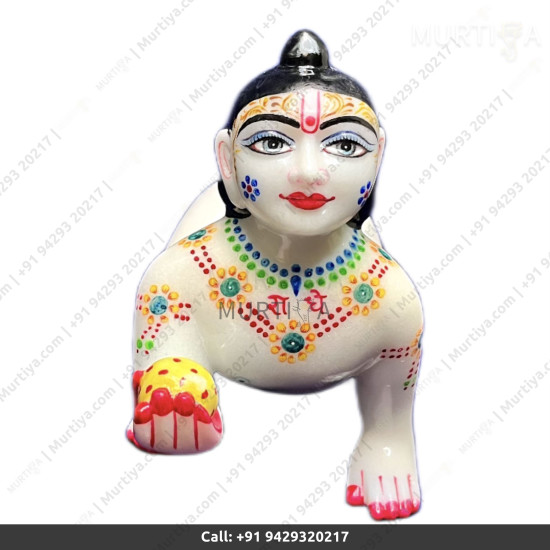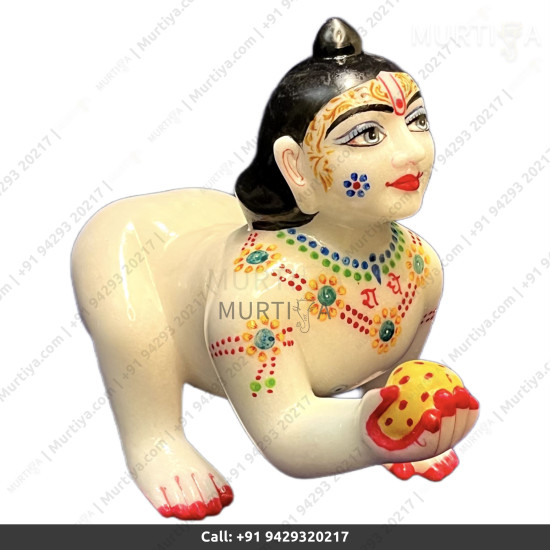 New 7 Inch In Stock




World Wide Shipping
We offer global shipping with secure doorstep delivery, tracking, and insurance.
24x7 Customer Service
24/7 human customer service available via message, text, or call.
End to End Monitoring
We provide regular shipment monitoring and updates until delivery.
Frequently Asked Questions
White Laddu Gopal Marble Murti with Yellow cloth jewellery for Home Office Temple
Special Offers
100 Points - Purchase any marble product and get 100 points you can redeem in your next purchase.

Specification
Specifications
Width
4.3 Inch
Height
7 Inch
Depth
9 Inch
Marble
Vietnam
With Clothes
Yes
Status
In Stock
Description
White Laddu Gopal Marble Murti with Yellow cloth jewellery for Home Office Temple
Introducing the exquisite Marble Laddu Gopal adorned with a stunning yellow colored dress and matching jewelry, available exclusively at Murtiya.com. With over 10 years of experience in crafting divine idols, we bring you a masterpiece that combines artistic beauty with spiritual significance.
This Marble Laddu Gopal is meticulously handcrafted by skilled artisans, ensuring each detail is intricately carved with precision. Made from premium quality marble, it exudes elegance and durability, making it a timeless addition to your home or altar.
The enchanting yellow dress perfectly complements the divine charm of Laddu Gopal. Carefully tailored with delicate embellishments and intricate embroidery, it showcases the craftsmanship of our artisans. The flowing fabric drapes gracefully around the idol, enhancing its divine aura.
To complete the ensemble, the matching jewelry adds a touch of opulence. Adorned with sparkling gemstones, the necklace, earrings, and bangles beautifully accentuate the deity's divine presence. Every piece of jewelry is designed with meticulous attention to detail, ensuring a harmonious and captivating look.
At Murtiya.com, we take pride in our exceptional customer service. We offer worldwide shipping, ensuring that this divine Marble Laddu Gopal can be cherished by devotees around the globe. With transit insurance, you can have peace of mind knowing that your precious idol will be protected throughout its journey.
Whether you are a seasoned collector or a devoted follower, this Marble Laddu Gopal with a yellow dress and matching jewelry is a testament to your faith and devotion. Embrace its divine beauty and invite prosperity and blessings into your life.
Experience the epitome of craftsmanship and spirituality with Murtiya.com. Order your Marble Laddu Gopal today and let its divine presence fill your heart and home with bliss.
How to Care
The deity in the Hindu religion is considered as a real human and therefore, it is crucial to take good care of the marble deity. Marble is a natural material that can be affected by pollution and the environment, making it important to clean the deity in a proper and regular manner.
To clean the marble deity, a good microfiber cloth is recommended, with 800+ GSM being the most effective.
It is essential not to use any chemicals, soapy water, or cleaning liquids as these can damage the coating on the marble. Instead, vacuum cleaning and dry microfiber should be used, with a wet cloth used occasionally for cleaning.
Placing the marble deity in direct sunlight should be avoided as it can damage the material.
If a tilak is applied, it should be cleaned with a wet microfiber cloth gently without applying any force.
In the case of a scratch, clear varnish should be applied to seal it.
By following these instructions, the marble deity can be kept in good condition for a longer time.